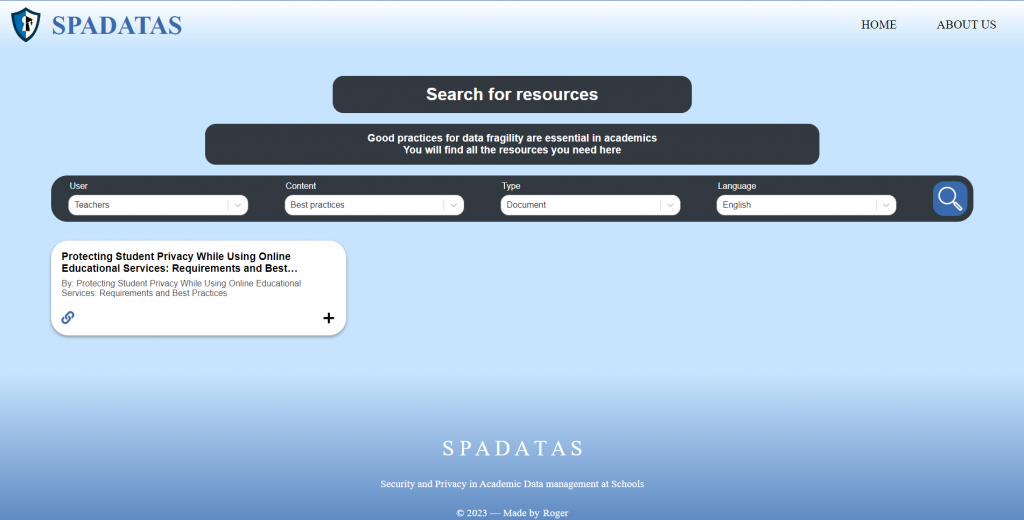 In the digital age, understanding and navigating the realms of data privacy and security has become fundamental for education organizations. With the vision of empowering the educational community with knowledge and resources to reduce data privacy and security problems in data management processes, we are thrilled to announce the launch of an innovative platform dedicated to Data Privacy and Security Open Educational Resources (OER). This new platform is accessible via https://oer.spadatas.eu/.
Our platform is a treasure trove of curated educational resources that aim to demystify the complex world of data privacy and security. Whether you are a teacher, principal, data privacy officer, IT admin, or a parent looking to understand the basics or advanced insights, our platform caters to a spectrum of stakeholders.
The resources available cover a wide range of topics including, but not limited to, good practices, data protection laws, cybersecurity protocols, and the ethical implications of data usage. The platform offers a user-friendly interface, making it easy to browse, search, and delve into the plethora of information available.
We are committed to fostering a culture of continuous learning and awareness around data privacy and security. Our platform is a step towards creating a community of informed educational roles capable of making wise decisions in the educational landscape.We invite you to explore https://oer.spadatas.eu/, enrich your understanding, and join us in promoting responsible and informed data privacy and security practices in education.